A Special Note for Nurses, Doctors + Midwives
We love having medical professionals as part of our regular workshops! Patient satisfaction is a big driver in today's health care world, and you earn a special kind of superpower when you can offer your patients medical skills, teaching skills and doula skills all in one amazing package.
Doctors, nurses and midwives are always welcome to join any of our trainings, but I also offer some special opportunities that are designed just for you.
I started working with medical professionals when the University of Michigan invited me to teach a one-hour hands-on labor support session for their birth center nurses. That session led to a four-hour training that I now teach at many hospitals, and since then I've also worked with colleagues at the University of Michigan to design an annual two-day doula training that's just for labor and delivery professionals (with nursing contact hours). Other hospitals have brought me in to teach longer, one-day sessions on labor support and cesarean prevention.
Read on to explore the possibilities:
• doula training (hands-on support for families);
• 4-hour and 7-hour labor support and cesarean reduction workshop (shorter than a full doula training);
• Lamaze childbirth educator training (learn to teach parents in the classroom); or
• designing a specialized hands-on training just for your staff.
Goals: learn new skills, laugh, connect, build your team, boost patient satisfaction, reduce cesarean rates and renew your passion for supporting birth.
Annual doula training exclusively for L&D professionals.
For labor and delivery nurses who want to become professional doulas, we recommend our full four-day training. But for medical staff members who want great doula skills to use in their existing labor and delivery job, our annual training just for L&D professionals is the perfect option. This session includes lots of great information on the doula's role, emotional support, comfort measures and malpositioned babies.
Because it's a safe space with only labor and delivery professionals, we can really go in-depth on the challenges you face and how to incorporate nurture, hands-on support and advocacy into your role.
AWHONN supports doulas and nurses with labor support skills.
In 2018, the Association of Women's Health, Obstetric and Neonatal Nurses (AWHONN) put out a position statement that recognizes doula support and encourages decision makers to consider making it a service covered by insurance. The association also said that nurses should role model to facilitate the participation of family and other supporters, and that nurses should help women cope with labor. But nurses often tell us that their training didn't include much in the way of labor support. Our trainings help fill the gap. 
I've worked with nurses, midwives and doctors for so many years now, I understand the challenges you face on a busy unit and how to incorporate doula skills in the time you have available for each patient. This is my only doula training each year that comes with 16 nursing contact hours.
NOTE: this workshop is only for nurses, midwives, family doctors and OBs who currently work in labor and delivery… if you are a nurse who works in another area of health care, you should attend our full doula training.
Interested in a full two-day doula training?
The nurses are asking, we're delivering! We've been getting a lot of requests for a virtual two-day doula training for nurses and other labor and delivery professionals. If you'd like to join us for the training, please choose your preferred dates below to confirm your interest.
The training will be fully virtual and highly interactive and engaging. It includes 16 nursing contact hours (Michigan nurses, this also completes your pain contact hour requirement).
Hands-on skills with be taught with a demo model, so think about a friend or family member who could join you for one four-hour block of the workshop (that would be on the second day of a two-day training, or the final day of the half-day option). Two nurses taking the training together would each need their own demo model.
Cost for the two-day, DONA-approved birth doula workshop, including 16 nursing contact hours.
Fill out the form below to let us know which dates work best for you.
Choose date, doula training for RNs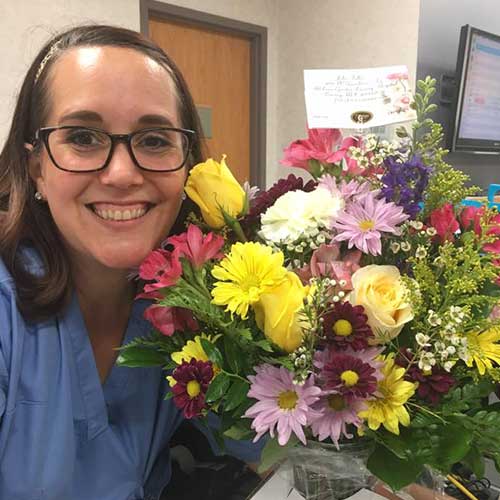 Jessica is so amazingly diplomatic in how she talks about birth in the hospital, and in how she communicates with nurses, midwives and doctors. The evidence-based information was great. Labor and delivery is a popular place to work and often nurses have been there for decades. Jessica is so skilled at teaching seasoned nurses how implement the newest evidence to improve outcomes. She showed us the "why" in the evidence and the "how" to make it happen.
The peanut ball positions were my biggest hands-on takeaway. I use the peanut ball at every birth now, it's so beneficial and so effective. If you take this training, I can promise that the skills you learn will improve your outcomes. It will remind you of how important your job is, and that our primary responsibility is to that mom and baby, even when we get bogged down in all the charting and other tasks. Jessica's training was fantastic!
Julie Fuller, RN
Lansing, Michigan
Feedback from nurses on the 4-hour training.
My four-hour training, focusing on hands-on labor support and cesarean prevention, is an option for those who can't take the full, two-day doula workshop. Four nursing contact hours are available. Hospitals often invite me in to teach this for their entire staff.
Here's what some recent nurse participants had to say on their evaluations:
"This was a great balance of physiology of birth, along with hands-on support."
"Jessica was wonderful, so smart and helpful." 
"Exceeded my expectations."
"Learned a lot, loved it!"
"It was amazing. Every L&D nurse should have/take."
"Instruction was very useful and I will be able to use with patients easily!"
"Perfect balance of hands-on technique and background information about physiology and what is happening in the body."
"This was amazing, Jessica! I learned so many new hands-on techniques. I wish I would have taken this class years ago!"
Train as a Lamaze childbirth educator.
As a labor and delivery professional, you know birth inside and out… But how much do you know about creative, interactive, evidence-based adult education? The goal of our Lamaze seminar isn't to teach you about birth, it's to teach you how to teach. We love encouraging you to think in new ways about how to build great classes that will draw in Millennial families. If it's just you, sign up for one of our regular Lamaze workshops. But we're also happy to bring a Lamaze training right to your L&D unit, so you can train a broad cross-section of staff members. We can collaborate on an exclusive training just for your team, or we can also open it up to the public.
Continuing Education Contact Hours
Our Lamaze seminars offer 23.75 nursing contact hours, and all of our childbirth educator trainings also come with six months access to the Evidence Based Birth® Academy, where the advanced training modules come with another 23 hours of nursing credits. (Our Lamaze childbirth educator program is the only one that gives you the extra access to the Evidence Based Birth® Academy modules.) That's a potential for 46.75 contact hours for you or any staff member who joins us for a workshop!
"I've attended at least three or four of Jessica's workshops, including a full doula training. The techniques have really helped me to be more hands on with my patients and to keep them moving and comfort measures rotating. I always remember Jessica saying, 'If that's not working, let's change it up.' I use a lot of the techniques she gave us to help reposition malpositioned babies, and I teach them to other nurses too. The communication skills Jessica teaches have also been very helpful, to really deeply listen to what patients are saying and to try to understand what they want, and to also communicate well with some of our more challenging patients. Having Jessica here has also helped improve nurse-doula relationships on our unit. I have a better understanding of what doulas do and I love to see a doula at a birth!"
Suzanne Davidson, RN
Ann Arbor, Michigan
Design something just for your staff.
What are your needs? If hands-on labor support, cesarean reduction or creative teaching are goals at your facility, I can design something just for you. Some ideas based on what I've done for other hospitals:
• Two-hour session on nurses, doctors, midwives and doulas working together
• Four-hour training in hands-on labor support (nurses, residents, midwifery students)
• Seven-hour workshop covering comfort measures, malpositioned babies, cesarean reduction, doula relationships (one hospital had me come back seven times so all of their L&D nurses could attend)
• Full two-day doula training for select nurses who then become ambassadors and mentors within the unit
What else could we dream up together? We can work through your channels to submit the needed paperwork for nursing contact hours.
Invite me to speak or consult.
I've spoken on a variety of topics at medical conferences and meetings, and I'd be happy to create a talk just for your organization. Even in a big group, my talks are interactive, enlightening and fun. Here are some topics I'm qualified to speak on:
• Medical professionals and doulas working together
• The research on doula support and why doulas improve outcomes
• Hands-on labor support skills (interactive workshop)
• Cesarean prevention and unit culture (using resources from ACOG and the California Maternal Quality Care Collaborative)
• Creative childbirth education for Millennials and Gen Z
I'm also available to consult on issues within your hospital or to help you create a hospital doula program. Email jessica@heartsoulbirthpros.com to explore the possibilities.
"When we wanted to expand our nurses' labor support skills, we brought Jessica in to teach a one-hour, hands-on session. Everyone said, "Wowza! This is something more useful, formalized and structured than we realized — it's a really robust training program." That launched us off to have Jessica create a four-hour training for our nurses, and also a full doula training for our labor and deliver staff. Those have all been just amazing, and we still bring her back every year.
Our nurses come away with a real, concrete set of tools they can use. I've seen them refer to the techniques and strategies years later. There's something about the way Jessica teaches, people don't just experience it in the moment but they can also apply it long term. I even like to send the nurse midwives we hire through Jessica's doula training. We want them to have effective labor support skills, and to also be able to partner effectively with the doulas in our community.
Jessica is a really fantastic teacher, and a great advocate for doulas as professionals. She addresses the relationships between doulas and nurses with such finesse that it brings all of us to a more professional standing, so we can work together. Our future is in partnerships, and we have to look outside of our individual disciples to create a collaborative environment and give the best care to our patients. Jessica helps us know how to do that."
Joanne Bailey, CNM
Director of Nurse-Midwifery, Michigan Medicine, University of Michigan
Not sure what you need, but want to stay connected? Sign up for our newsletter.