Welcome to your new career supporting families.
The weeks and months after a new baby arrives don't have to be so hard for new families.
 Postpartum doulas make that time better!
The weeks and months after a new baby arrives don't have to be so hard for new parents.
 Postpartum doulas make that time better!
We're meant to be surrounded by our village.
Throughout time, in cultures around the world, new parents have been supported by their village. In this model, after a tiny one arrives, the mother or other birthing parent is surrounded by people who offer nurture and support. There's a magic number of 40 days and 40 nights in many cultures, where the new parent is fed, cared for, taught to nurse, nurtured and loved on as they enter this new realm.
What happens today, especially in American culture? New parents are sent home to their isolated little boxes and told to "figure it out." If they're lucky, a grandparent stays for a week or two, bringing whatever knowledge and skills they might have to help. Other families have no support at all. They often find themselves alone, overwhelmed, exhausted and struggling. But we know what can help.
You can help, future doula.
The postpartum doula role professionalizes the nurture and support new families need. This training is your first step toward becoming a certified postpartum doula with DONA International. We'd love to have you with us for a postpartum doula training, where you can learn from Krista Maltais, a highly experienced trainer who is still actively working with families today (important so you can be up to date on the current trends and challenges parents face). She'll share all her secrets she's learned to help your clients have a more positive, centered fourth trimester.
Postpartum doula work is a hot field, growing every year as families realize all the benefits of fourth trimester support. If you're already a birth doula, this is a great addition to round out your services. It's also an amazing stand-alone field for anyone who loves babies and feels called to support new families in those tender first weeks and months. You don't need any special background to get started as a postpartum doula — just your passion, your heart, your hands and this training!
We offer virtual postpartum doula training that can be attended from anywhere in the world, as well as in-person postpartum doula trainings in Michigan, New Hampshire, Massachusetts, and Maine.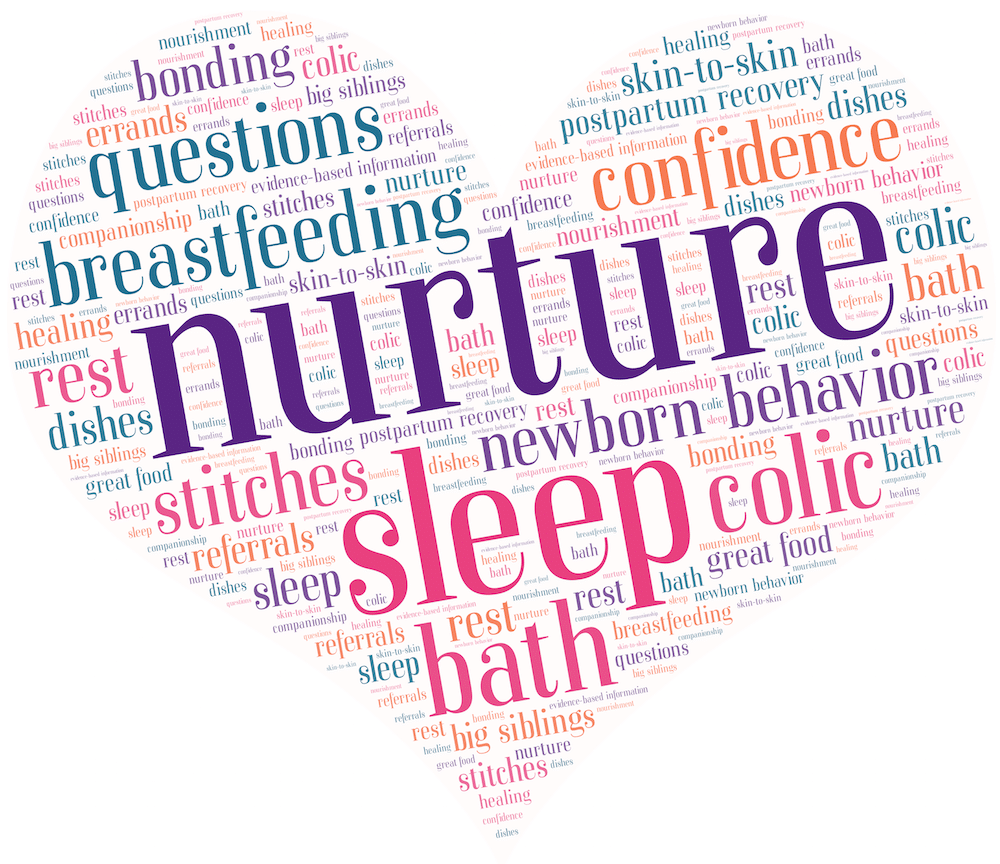 What is the fourth trimester anyhow?
The first three months after a baby is born are known as the fourth trimester. This is an important time for establishing bonding, feeding and laying the groundwork for a family's new life together. Postpartum doulas focus their support on this critical time, working to help families feel confident enough to do it on their own.
How do postpartum doulas help families?
Doulas help with whatever the new family needs to feel most connected and nurtured during the postpartum time. This often includes practical tasks like laundry, cooking or organizing the household, but the very most important work we do is to educate and nurture the new family. This might include teaching them how to babywear or give their little one a bath, or it might mean ensuring that everyone is getting the shower and sleep they need to make it through.
Meet your trainer, Krista Maltais.
Krista Maltais is an Advanced Certified Postpartum Doula (AdvPCD) and an Approved Postpartum Doula Trainer (PDT) through DONA International and an Advanced Lactation Consultant (ALC) through the Academy of Lactation Policy and Practice. She earned her bachelor's degree in family studies from the University of New Hampshire and has worked as an adjunct professor at Great Bay College in the Early Childhood Education Department. Krista began working as a postpartum doula in 2006 and was a member of the Seacoast Doula Group for six years before co-founding Great Bay Doulas in 2011 and then founding Relief - Parenting Respite & Resource Center in 2018.
Krista has worked with newborns (including many multiples), siblings and parents in a variety of settings both in the United States and abroad. She has a strong background in parent-child attachment, family dynamics, growth and development as well as family support. Krista believes that all families are unique and deserve compassionate support so they may gain the confidence, skills and resources needed to build a strong and successful family foundation. She is continually honored to be a part of that process!
Here's what others are saying about Krista's training...
"The workshop was remarkable, I loved the flow of topics and I never had a minute of boredom! I was excited about all the little exercises because it helped implement the skills I learned right away. It is such an honor to be (Krista's) student on my first step of the journey of becoming a doula."
"My business is going so well. I have been working consistently since leaving your workshop! I am shocked but thrilled. I have never felt such peace and joy from any job as I do from being a doula. I can't even call it a job. I love every part of it. I have faced some incredible challenges and met the most amazing people. I am so grateful."
"I just wanted to say thank you for the experience you gave to not only me, but all of us; (the workshop) was one of the most eye opening experiences I've ever had. I was really nervous going into this. Your class gave me so much confidence. You are such a huge role model to me and I just want you to know that you have made a significant impact on my life."
"Virtual experience exceeded my expectations. Krista was fantastic!"
"I would HIGHLY RECOMMEND this workshop to anyone looking for an excellent and well managed Postpartum Doula Training Workshop!"
"Krista was a wonderful leader and mentor. She was professional, experienced, and so helpful and warm. I looked forward to waking up every day to attend our (virtual) workshop. All of the participants bonded and felt very united as learners and students."
"The is workshop was very good, but the trainer made it excellent. Krista was honest and engaging. She was very thorough throughout the content of the material. She was detailed, engaging, humorous, honest, and caring. I felt very confident that her thoughtful words were sincere and came from a place of deep knowledge and experience."
"Krista was an amazing trainer. Her expertise, combined with her ability to convey all important information, made the training enjoyable as well. I left the training feeling inspired, prepared, and ready to begin my work as a doula."
Upcoming Postpartum Trainings
VIRTUAL/WORLDWIDE TRAINING
Dec. 14-17, 2023
8:30 a.m. - 5:30 p.m. Eastern Time
$760
VIRTUAL/WORLDWIDE TRAINING
January 4-7, 2024
8:30 a.m. - 5:30 p.m. Eastern Time
$760
VIRTUAL/WORLDWIDE TRAINING
February 6 - April 2, 2024
40+ hours, Tuesdays 9:15 a.m. - 1:45 p.m. EST
includes additional topics, mentoring and support
$1400
VIRTUAL/WORLDWIDE TRAINING
February 16-19, 2024
8:30 a.m. - 5:30 p.m. Eastern Time
$760
VIRTUAL/WORLDWIDE TRAINING
March 7-10, 2024
8:30 a.m. - 5:30 p.m. Eastern Time
$760
VIRTUAL/WORLDWIDE TRAINING
April 11-14, 2024
8:30 a.m. - 5:30 p.m. Eastern Time
$760
Virtual trainings are live trainings via Zoom. You must clear your schedule and be actively participating with camera on for the entire session.
Postpartum Doula Trainings ~ Your Investment
Virtual $760, in-person $860. Start with a deposit of $249, and you'll receive an invoice for the remaining $511-611 to be paid before the workshop.
Extended Virtual Program
$1400
everyone starts with a deposit of $249, and you'll receive an invoice for the remaining $1151 to be paid before the workshop.
We typically find that postpartum doulas can make back their investment with their first client, or possibly two, depending on the number of hours contracted. Your career starts right away after your training! 
What's included in your training?
This is a DONA approved postpartum doula workshop. It also includes Breastfeeding for Doulas, which covers the basics that postpartum doulas need to know to effectively support new parents. Certification is encouraged, but not required to work as a postpartum doula. Your new career supporting families starts right away after your training.
 Are you ready

to make this happen?
Let's get your postpartum doula career off the ground! We'd love to have you join us for a workshop. If you still have questions, visit our FAQs page and learn more. Otherwise, get started by filling out the registration below. Everyone begins with a deposit of $249, then you'll receive an invoice for the remainder of the fee, due before the training.
I can't wait to introduce you to this work!
-Krista
Not quite ready to register? Email info@heartsoulbirthpros.com with questions or sign up here to join our newsletter.